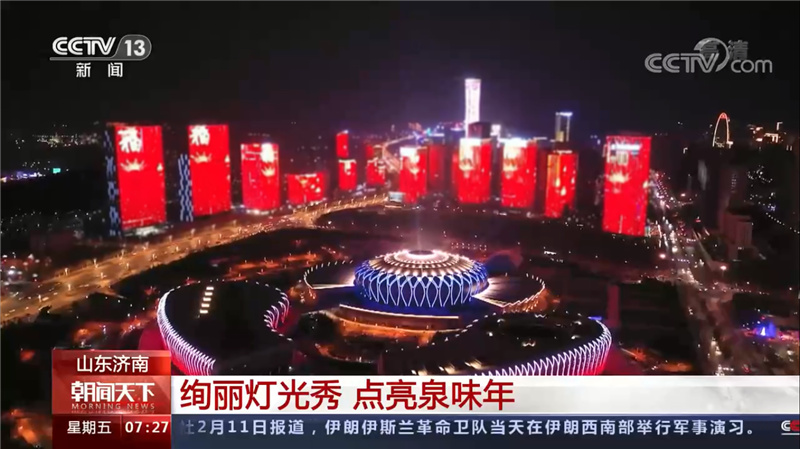 2021.02.12 CCTV's "Morning News" broadcast picture
In the New Year of the Ox, CCTV reported a grand Jinan city light show with the title of "Splendid Light Show, Light up the New Year in Spring City", showing the light feast with the characteristics of Spring City!
Lotus flowers, willow trees, mountains and lakes make up the wonderful scenery of Jinan. Spring city is the leader in Jinan, lotus and willow trees are deeply loved by local people and has profound cultural heritage.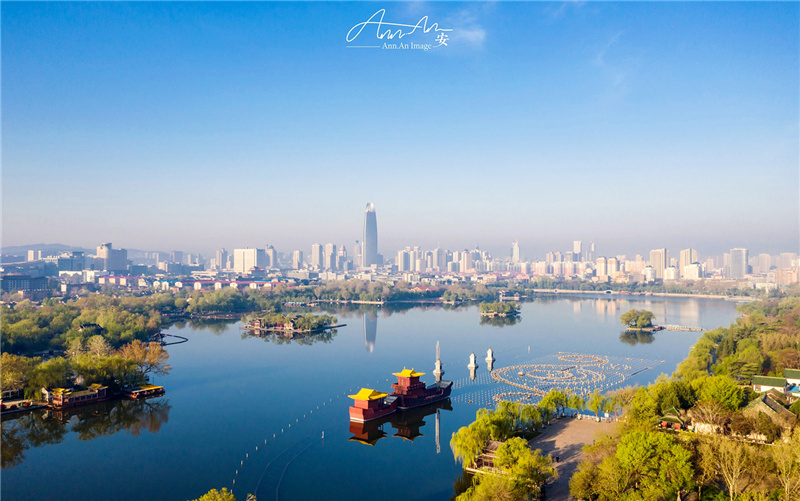 Image from the Internet
The night lighting renovation of Jinan Olympic Sports Center Stadium is deeply rooted in the culture of Spring City, so that the modern aesthetics of the city and the profound urban culture can be complemented with modern intelligent green lighting, creating a "boutique project" of Jinan night tourism.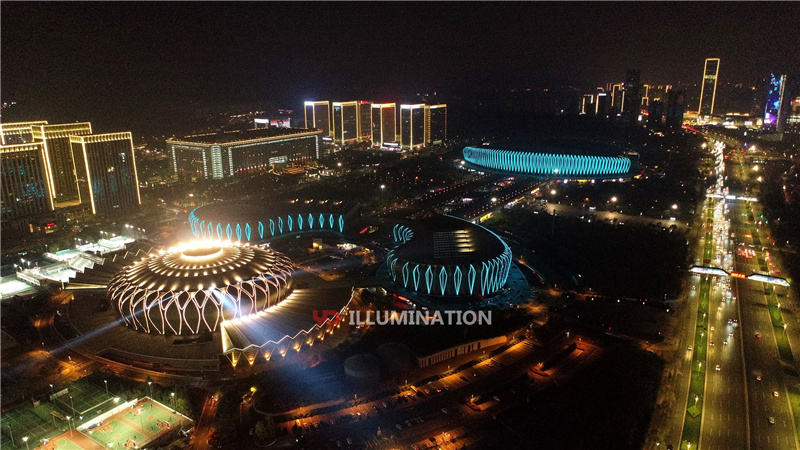 Lotus and willow trees make the spring city lively
The night lighting of Olympic Sports Center takes "Lotus and willow trees make the spring city lively" as its theme.
Extracting the characteristic elements of "lotus and willow", combined with line drawing and Chinese painting techniques, the "points", "lines" and "surfaces" of the lighting are combined through intelligent control to produce a variety of overall rhythmic forms, showing different night lighting effects and fully highlighting the characteristic appearance of the landmark building.

The project is focusing on scientific and technological green lighting, using high quality lighting products from YD Illumination to realize the overall integration of the three buildings, and also with the surrounding areas to achieve the overall intelligent lighting integration. With "spring, summer, autumn and winter" four seasons as the theme of the lighting effect, the perfect way to show the different experiences of people in different seasons lighting, to show the charm of technology lighting.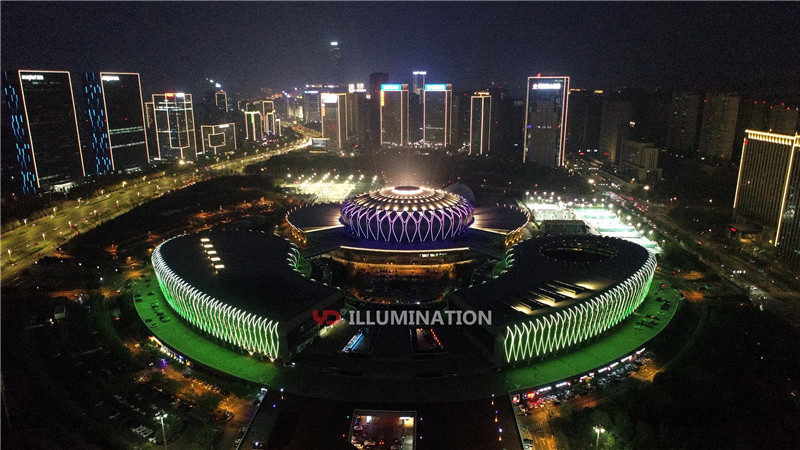 Lotus petals and willow leaf shaped lighting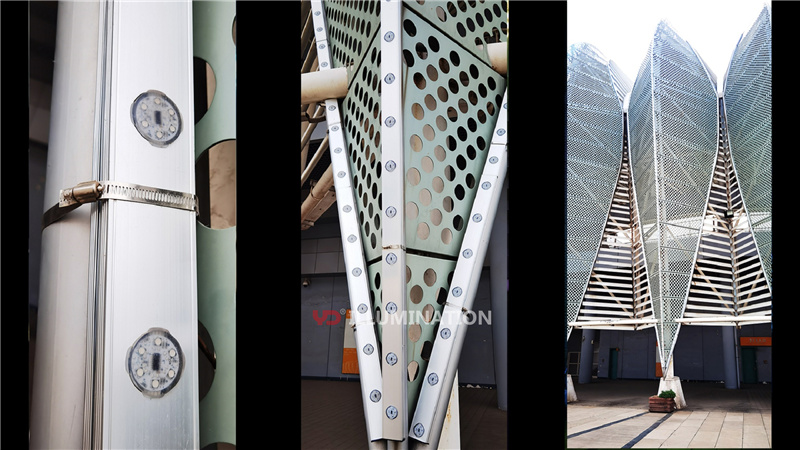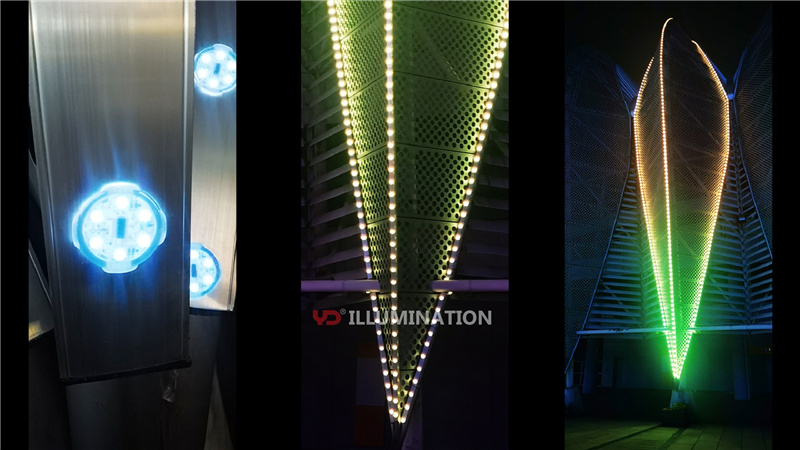 The lights were installed by aluminum track and "traced" along the exterior steel structure of the stadium, fully highlighting the architectural charm of lotus flowers and willow leaves.
In order to welcome the Chinese New Year of the Ox, the project schedule was urgent and the construction work took only 15 days to complete the installation of all the lights before the Chinese New Year ( February 7th)!
Jinan Olympic Sports Center, East Lotus and West Willow
The Jinan Olympic Sports Center is located in the new urban area in the east of Jinan, with a total construction area of approximately 350,000 square meters, including a three stadiums, the overall layout of "East Lotus and West Willow", taken from Jinan's city tree and city flower, known as "China's most beautiful stadium".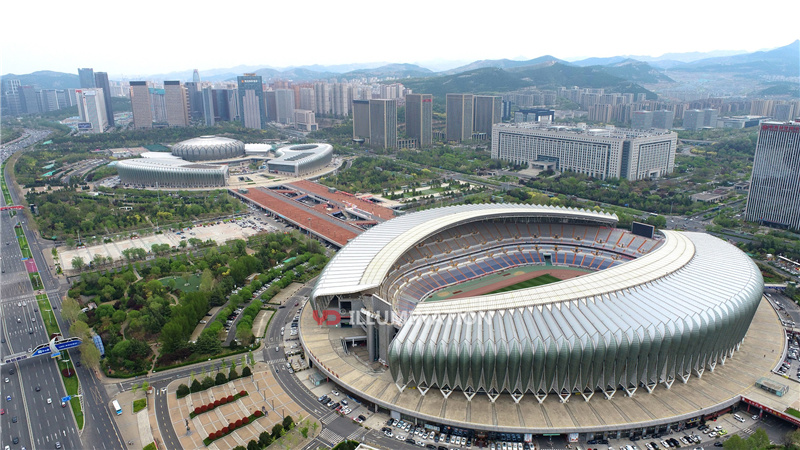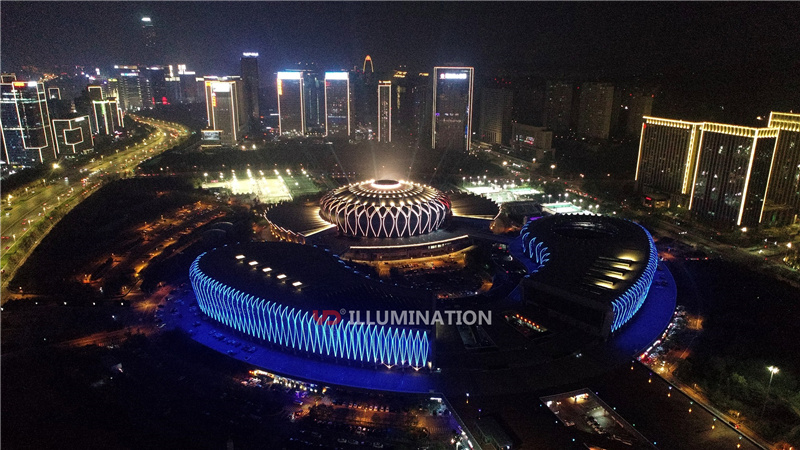 During the night, Jinan Olympic Center stadium group lighting integrated with extraordinary energy, which is also a green technology example to enhance the night scene of Jinan, green technology to light up the city, to create a very regional cultural characteristics of the night lighting, to empower the night tour economy, to better serve the people's good life!
Project Information
Project Name: Jinan Olympic Center Stadium
Project Location: Jinan, Shandong Province
Construction company: Wonderful Industrial Group Co., Ltd
Supplier: Hangzhou YD Illumination Co., Ltd
Completion date: 2021.02